NEW Train Engineer Revolution DCC system CRE59000 in stock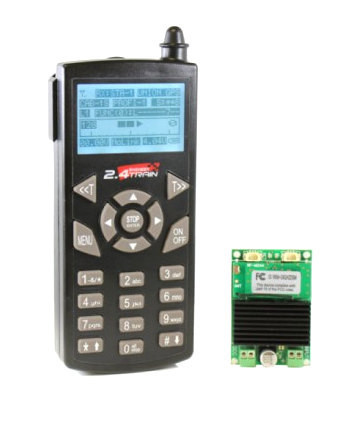 TRANSMITTER
2.4GHz DSSS Duplex Wireless System.
The transmitter can read the decoder's CV value from the receiver. Radio control range over 500 feet outdoors.
Very easy DCC programming without complex engineering knowledge
DCC programming is done in simple English text. No need to remember the locomotive or accessory DCC address number, simply choose the name of the given locomotive or accessory CAB # or CONTROL #.
Multi-unit operation (Advanced Consist) settings are very simple. Single button controls multi-accessory (turnover) devices.
2,500 locomotive and 2,500 accessory separate memory slots are provided.
CV program range: CV1 to CV1024 (Function and Accessory decoder).
Decoder address program range: Short (2digits) 1-127 and Long(4 digits) 1-9999.
Accessory Address program range: 1-2044.
Easy access speed steps 28 or 128.
Easy access F1 to F28 function control.
Easy to TX clone.
Single button for all stop function.
RX DCC OUTPUT POWER ON/OFF Control.
Exchange data from TX to TX.
The firmware can be upgraded wirelessly.
RECEIVER
2.4GHz DSSS duplex radio system.
Radio control up to 500 feet at open air.
High efficiency synchronous
DCC Booster.
DCC Command Station-Booster RX for N, HO,O, S, G scale track or mobile setup.
Works with any NMRA-DCC multi-function / accessory / sound decoders.
Wide input voltage up to 24V DC.
Maintains 2500 locomotives and 2500 accessories.
Programmable output current and power limit.
Wireless firmware upgrade-able.
---