LMS Rebuilt Royal Scot SOLD OUT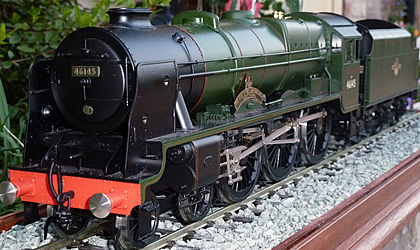 Available NOW Production limited to just 60 models, each individually numbered with certificate of authentification. Delivered in a wooden presentation box.
Supplied as standard with 4000gal Stanier riveted tender.
Featuring
all brass construction, hand built from our own manufactured components, no white metal parts
extra detailed fine scale
all axles sprung including tender
steel ball bearings, all axles
opening filler cap and removable tender dome to assist fitting radio control
sliding roof vent
sprung buffers
opening smoke box door
sprung couplings
operating cab doors
hand punched rivets
Correct wheel profiles
Multi stage helical gearbox with phosphor-bronze gears
Wheels fitted on quartered axles & screw fixed
Only 60 models to be made each with individual number and certificate of authentification, available world wide exclusively from Finescalebrass
Please Note: Where additional services are ordered, such as lining and detailing, this will extend the delivery period.
---