FineScaleBrass offers a wide range of, hand built, brass, 7mm, 0 Gauge and 1:32nd Gauge One, ready to run, model railway engines and coaches, at realistic prices.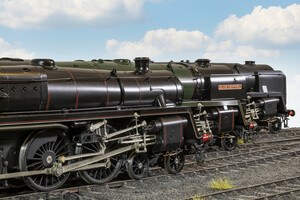 Welcome to FineScaleBrass
you are very welcome to visit us and view the range of models available, due to current work commitments this is by appointment only, but the good news is any time up to 7.00pm most days
Coming soon fully finished stock locos in both O gauge and gauge 1 ready for immediate delivery.
NEW RANGE OF MODELS SEE 55H LISTINGS First model 9F in both O gauge and Gauge 1 pre-order now
Duchess in Gauge 1 and O gauge, 2 models left see listings ,
In stock for immediate despatch , O gauge GWR city class, J50, B1 black & green, 1833 late only, 2MT, Jubilee, V2, Manor and all Grange options Gauge 1 Hall - GWR & BR green , 8F, early black 5, 4MT, Jubilee, 4575, 14xx, Pug & Terrier
Back in stock Double Fairlies now updated in maroon/black, see special offers for details
See our latest news update - revised 05.12.13 for important news regarding the factory & stock availability. .I must stress we are not closing down and we have stock of newer models in O gauge and all gauge 1 locomotives and these will be replenished later this year. We have made a substantial investment in both stock and spares and expect this to last for at least 2 to 3 years
Our prices include VAT at 20% and insured delivery to mainland UK using Interlink, there is no premium for credit card payment, what you see is what you pay.
FineScaleBrass is the approved partner for the UK and Europe of the San Cheng, own model, range of hand built, brass 0 gauge and gauge 1 ready to run 12V DC railway models.
Here in Leeds, we hold stocks of the full range of San Cheng models (in factory paint finish) for immediate dispatch, our Leeds showroom and upcoming test track near York offers you the opportunity to view and try the models before you buy!
Our showroom is open 12.00am -6-00pm Monday to Friday, but please do not hesitate to contact us if you wish to visit outside these hours or enjoy a visit to our test track.
We offer a personal service in supplying hand built, brass models at realistic prices, if you have any questions please do not hesitate to contact me. We now have a fully finishing service using 4 excellent professional painters, see "our models" for what we include in this package. We also offer DCC, sound, radio control & sound fitted in our finished models.
We accept payment by credit/debit card (except Amex), bank transfer, cheque and good old cash. Pro-Store Ltd
JOHN RILEY
MANAGING DIRECTOR